Mark MacKain
After four years playing with the U.S. Youth 15 & 18 National Teams and Olympic A & B Teams, Mark came to the Atlanta Chiefs of the North American Soccer League (NASL) in 1979 as the fourth high school player ever drafted into professional soccer in the United States. Mackain played three years in the NASL and one year in the MISL with the New Jersey Rockets playing in 18 nationally televised games and was the third player to ever train inside an EPL youth system (Aston Villa) before a chronic knee injury forced him from the game.

Mark continued to be heavily involved in the sport after his playing days were over by coaching his four sons, which began a 21-year coaching career with Atlanta Fire United. Coaching teams in the U.S. Developmental Academy (USDA) and Elite Clubs National League (ECNL), Mark also served six years working as a Director of Coaching and Director of Operations from 2006-2013. His experience at USDA and ECNL included coaching four women's national pool players, four future MLS players, and one U.S. Men's National Team Player. As a Super Y Director, Mark also hired and assisted his staff which produced two Super Y National Championships.
Over the last six years Mark has spearheaded a college recruiting process that has yielded the most players committed annually to colleges, than any single soccer Club in the state of Georgia. He has served on the Executive Board of Atlanta Fire United for 11 years helping to grow the club from under 900 to over 4,500, the U.S. Club Executive Board since 2009 where membership increased from 250,000 to over 500,000 and Juggle the World's Executive Board serving under privileged inner city players.

Receiving his "A" license in 2004, he has or currently works with the ODP Region III staff (2001-2010), U.S. Club Player Development Program staff (2013-present), Super Y National staff (2010-present) and is a regular presenter at the globally attended NSCAA/U.S. Club Director of Coaching Course.

Mark is dedicated to taking his long-time association as a successful local business owner, combined with his vast soccer experience of over 38 years as a player and coach, to launch a club where a strong emphasis is fundamentally stressed on player development, but also balanced with teaching players the highly-competitive aspects of the sport.
---
Ahmad Amer
Ahmad played soccer growing up in Kuwait and came to the U.S. in the late 80's to pursue his electrical engineering degree from Louisiana Tech University. Aside from working in the high tech telecom industry, he always had a great passion for coaching soccer. He started coaching around 2005 working with the younger boys for about 9 years before joining the All-In FC Coaching staff at the beginning of 2015. Ahmad created a U12 Academy boys team in Spring 015 and is coaching the U16 boys this year.

Ahmad's love and passion for the sport have impacted many kids over the years as they develop and grow into players and young men. He brings energy, compassion and intensity to All-In, holds a National "D" License, is married and the father to 3 soccer boys: Ali - U16, Amir - U13 and Sami - U10 Academy.
---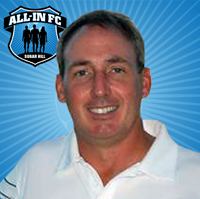 Colin Hutton
Colin has been a soccer coach for 14 years and started out helping develop the Newtown soccer program and then moved over to Roswell to help expand the boys program.
Then joined West Gwinnett Soccer which then became Atlanta Fire United Soccer Association. As a coach and as the Vice President on the Executive BOD. Helped develop an excellent soccer program for our recreational and select soccer program. Helped develop the Super Y, US Club Regional Soccer and our Academy Boys Program. Certifications in G,F,E, National Youth D and NSCAA Level 6 and Advanced National Diploma
---

Mario Quintana
Mario Quintana joins All-In FC's Coaching staff from AFU where he coached U10 – U16 players for many years. He is originally from Medellin Colombia where he discovered his love for soccer at an early age which has continued throughout his playing and coaching career. Coach Mario is well known for his advancement and development of players as 40% of his players have advanced to a higher playing level.
Mario can be found on the pitch almost any day of the week as a trainer, Coach and Referee.

---
John Schaefer
Coach Schaefer will be working with the U-9/U-10 Academy Boys' team in his first season with All-In Soccer. Coach Schaefer is entering his fifth year as the boys' head varsity soccer coach at Lanier High School. Lanier has made the state play-offs all four years coach Schaefer has been there and were region 8AAAAA champs this past season. Coach Schaefer was also voted coach of the year for region 8AAAAA.

Coach Schaefer grew up and played soccer in both Long Island, New York and Orlando, Florida. He is a graduate of Oglethorpe University where he earned his Bachelor's in Business Administration and played soccer for four years. Coach Schaefer also has a Master's in Elementary Education from Piedmont College and an E.D.S. in Leadership from Lincoln Memorial University. He is currently a STEM education teacher at McKendree Elementary School.
---
Mike Johnson
Mike played his High School soccer at Don Bosco Prep in Ramsey, NJ. He was a member of the All County and All-State Teams in NJ and had a .48 goals against average at Don Bosco. Mike played his college ball at Drew University and was a four year starter in the net. Mike holds the Drew record for career saves and goalie save percentage and was inducted into Drew's Athletic Hall of Fame in 1998. Mike has been coaching for over 20 years, has a National D Coaching License, and has been at All-In for 6 years.
---


Charlie Morgan
For the past year I have been working with Rockdale Youth Soccer Association coaching in their Academy and Select programs. Before moving back to the Atlanta area in July 2017 I was working at Hancock Day School where I taught Pre-K-8th grade PE and coached the middle school soccer teams.
Prior to working at Hancock, I spent one year as the Director of Coaching for the Wilson Youth Soccer Association. I developed a player pathway curriculum that showed what each player should be learning at the various age groups. I also created a coaching manual for all Select coaches to follow in order to provide some consistency in the program. I worked with the board to help the club visibility in the community and we saw about a 20% increase in the number of players. I was responsible for the hiring of all Select coaches within the club. I worked closely with the city to bring ECNL, R3PL and NC State Cup games to our home venue.
From August 2013 to July 2017 I was a Staff Coach with the Savannah United Soccer Club in Savannah, GA. During my time with Savannah United I coached several teams a season, been the head trainer for their Academy teams, done numerous coaching evaluations and started a winter training program for high school players.
I joined the staff at Frederica Academy in 2004 as Athletic Director and Head of Soccer where I coached the middle school and varsity teams. I led the Frederica boys' varsity soccer team to 5 State Championships and 2 State Runner up trophy's. I led the girls' varsity teams to 6 State Championships and one Runner up trophy in my 7 years at Frederica. I also coached the varsity and middle school cross country teams for two years. The school won 23 State Titles during my seven years as the Athletic Director. While I was at Frederica, I oversaw several capital improvements to the athletic facilities including a gym renovation, upgrading the baseball facility and the construction of new grandstands and press box on the soccer/football field. In addition to the capital improvements I was responsible for adding new athletic offerings to the athletic department, these included football, volleyball, equestrian and track. Frederica was awarded the GISA Athletic Award for Excellence twice while I was Athletic Director.
Prior to Frederica I was involved in the running of youth soccer clubs in the Atlanta area since 1999, working with Peachtree City Youth Soccer and The AFC Lightning Soccer Club, where I held the position of Director of Coaching for all of PTCYSA and Girls Director of Coaching for AFC.
I have been involved in coaching soccer since 1992, and have coached at the youth, college and professional levels. It has also been my privilege to be involved in the management and day to day coaching of four professional soccer teams, The Atlanta Magic, The Atlanta Ruckus, The Richmond Kickers and The Hampton Roads Mariners.
Before getting hooked on coaching I had a long playing career. I grew up in the Atlanta area and started to play soccer at age 7. I played many years for the very successful Datagraphics Soccer Club where we won numerous State and Regional Cups. As a high school player I was on the Southwest Dekalb team that won State Championships in 1979 and 1980 while winning 33 straight games. I original went to Georgia State University to play soccer. After two good years I decided to transfer to Clemson University as they were a perennial top 10 program. At Clemson I was the team captain for two years and helped lead Clemson to a NCAA National Championship in 1984. I was a two time All-ACC team member, was part of the Region 3 team for many years and was in the US National Team pool as well. I also represented the United States at The World University Games in 1985. I played professionally in the MISL and NPSL with Cleveland, Jacksonville, Atlanta and Kansas City.
I am the holder of the two highest soccer coaching licenses in the US, The USSF "A" License, the NSCAA Premier Diploma; Pass with Distinction (top 5%) and The USSF National Youth License. I also am a coaching instructor for The Georgia Youth Soccer Association, conducting coaching courses around the state and have been a staff coach for Boys and Girls Region III ODP Camps. I am currently an assistant coach with the 2005 Region III Boys ODP Team. I recently went on two international trips with Region III teams to Portugal and Italy. I am currently scheduled to be a member of the Region III ODP staff again the July in Alabama.
I have had the privilege of working with 4 players (Morgan Brian, Kelly O'Hara, Jason Moore and Troy Gardner) who have represented the United States at various Youth World Cups. I worked most recently with Morgan Brian (U17 Women's World Cup, U20 World Cup Champion. FIFA Women's World Cup Champions, current member of US Women's National Team and Olympic Lyon), who was also The Gatorade Player and Athlete of the Year in 2011.
---

Sharon Loughran
Bio coming soon.
Yobani Ventura
Yobani grew up playing soccer in Northern Virginia before bringing his soccer talents down to Georgia in 2015. Coaching at AFU before moving over to All-In Futbol Club, Yobani had a following of players who were as dedicated to him as he has been to the game.
Yobani has been coaching Academy age players all the way up to 14's winning divisions and tournaments with each season. Like many coaches, you can see Yobani playing in our Men's League each weekend, continuing his own progression and love for the game.


Elizabeth Kinsel
Elizabeth Kinsel has been on the coaching staff with All-In FC for the past two years after completing her collegiate career at Georgia State University. She works in Corporate Health and Wellness where she not only promotes healthy living, but assists individuals through training and guidance. Before her collegiate career, Elizabeth played on St. Pius X women's varsity team for 4 years and during her time there she won 1 State Runner Up in '08, 3 State championships in '09, 10, 11, and NSCAA National Title in '10. Elizabeth was also named Most Defensive Player by her team in '11. She is a former player of Coach Mark MacKain during her club days at Atlanta Fire United. Elizabeth has worked multiple camps over the years and most recently at the All-In FC Winter Camp. Elizabeth is ready to jump in this season to help each player develop one step at a time.
---

Bob Czerniak
Bob played his high school soccer at Schaumburg High School in Illinois. He also spent one season at Pensacola Christian College (in the now called Collegians League).
Bob has 11 years coaching experience in 3 states (IL, NH, & GA). He has spent the last 8 years coaching in Georgia with 6 ½ years at the Academy level (U9-U12 age groups for both boys and girls). He has served as the age group coordinator for the U9, U10 and U11 boys age groups at Atlanta Fire United. He spent two years coaching in Nottingham, NH where he also served as Vice President for the club. Bob has his USSF National "D" License, USSF National Youth License and his Coerver Coaching Youth Diploma. Bob has coached/instructed at numerous soccer camps in Georgia and New Hampshire. He is currently serving as an Ambassador for Liberty United for the 2014 World Cup.
Bob is married with two children. His wife Tina works a full time job in addition to her duties a as a full time soccer mom and sports taxi cab driver. She previously served as a Team Manager for her sons team. His daughter Courtney played soccer for several years in the Academy, Select & Recreation Leagues. Her experience playing Academy and Select soccer prepared her for a cross country career at North Gwinnett H.S. She is going to attend Mercer University in the fall of 2014 on a cross country scholarship. His son Zach has been playing soccer since the age of five and played Academy/Select since he was eight. He just finished his freshman season on the North Gwinnett H.S. Junior Varsity soccer team.
---
Gus Jimenez
Gus Jimenez has 20 years of playing experience to support 5 years of coaching experience. His passion is contagious and an element of his coaching style which players attach to. His goal as a coach is to first help each individual athlete achieve the next level in their soccer career and secondly, to help facilitate the positive impact that soccer will have on their lives. He played collegiate soccer for Carson Newman College, a Division II school located in Jefferson City, TN. In his four years as a player he helped lead the team as they became one of the top ranked Division II schools in the country. They were National Tournament participants in 2007, 2008 and 2009 as well as Conference Champions in 2008, 2009 and 2010. He played high school soccer for North Gwinnett and was team captain for 3 years. He was named All County in 2005, and was selected to the Gwinnett County All-Team in 2006 while playing his club soccer for Atlanta Fire United. When he is not coaching, he likes to hang out with his family and friends. He enjoys reading and learning from others.
Message to players:
"I believe that through soccer you can accomplish many things in life. I encourage you to pursue it as long as you can and make it as far as you can. Practice makes perfect and I am here to help make you a better player. I will push you to your limits and help you achieve your goals."
---


Jonathan Reyes
ALL-IN FC GK COACH
Coached Youth Soccer for 2 1/2 years. Coaches at Buford HS JV Boys Soccer. Played professional soccer for Loudoun United FC/Baltimore Kings and the USL Champions and USL League 1. Played overseas in Ireland and England. Played for El Salvador National Team in the U17 World Cup and Selected for the U23 Olympics 2021.
---


Sean Parent
Sean grew up in Van Buren, Maine where he lead his high school team for their first ever state championship title. He continued his playing career in college, where he saw great success. His passion for coaching took over and he's coached several teams at various age groups over the past two decades. Sean is new to the ALL-IN Academy staff, but not new to ALL-In. He's coached in our rec league for the past 5 years and is eager to work with the U9's.
---
Alfonso Bonilla
Coach Alfonso Bonilla ALL-IN FC U17 Boys Head Coach and Head Coach for Georgia Olympic State team - 0 age group.
Coached Youth Soccer in GA, and New Jersey for the last 20 years. Coached many teams at the Elite Level to State, Regional and National Championships. Member of the GA ODP Staff for the last 7 years. In addition, Coach Bonilla has coached many elite players that continue to play in DI Colleges, Regional Teams and National Teams
---

Alex Bahr
Alex Bahr is a seasoned and well respected soccer player and coach in Atlanta. He brings over a 10 years of youth soccer coaching experience where he has served as Head Coach with Georgia Futbol Club, Dacula Soccer Club and Atlanta Fire United. Coach Bahr was also the assistant coach with Buford City Schools Boy's Varsity Soccer Program. Prior to coaching, Bahr played over 15 years for professional soccer clubs ranging from the Miami Freedom to Petrotela Deportivo to the Atlanta Silverbacks. Coach Bahr brings intensity and a spirit of competition with his coaching. "Alex is one of the rare coaches who can relate to parents and players on both the professional and personal levels. He has two children who are excelling in their own right and teams who consistently compete in their divisions," says MacKain. "I have yet to hear an unkind word about Alex, everyone likes him."
All-In leadership has decades of experience on local, state and national levels of play and is committed to player development and success. Our goal is to create a true soccer club where teams and players know and support each other on and off the field. All-In coaches are "team" coaches with a "club" mentality sharing their talents to meet the needs of individual players, teams and the club as a whole.
All-In Futbol Club's first season was Fall 2014. It was Georgia Soccer's largest opening season with over 400 local children participating and is forecast to grow registration in all of their programs by 35-50% each season. All-In offers Rec, Academy and Select youth soccer programs and is pleased to announce the addition of a Men's program in Fall 2015. All-In has partnered with the City of Sugar Hill to offer the first class facilities of Gary Pirkle Park with 5 Multi-purpose Fields - 3 Synthetic Turf Fields (255,000 sq.ft. largest in the Southeast), and 2 Natural Grass Fields.


Chelsea Watts
Chelsea Watts joins All In FC after coaching previously with Atlanta Fire United and Fusion FC in Alabama. She holds a National "E" license and her coaching experience is supplemented by an 18-year playing career including time at the NCAA Division I college and semi-professional level.
Chelsea played four years at Jacksonville State University in Jacksonville, Ala., where she served as the co-captain for three. During her college career she received OVC all-conference, ESPN and CoSIDA awards for her performance both on and off the field and is still in the record books for goals, shots and games played.
Her passion for the game and heart for positively impacting her players drives her to be a better coach every day. Chelsea resides in Dacula with her husband, Daniel, their son, Elijah, and their cocker spaniel, Cooper.